ABOUT
Jane Armstrong
(b. Cleveland, Ohio) American artist based in Brooklyn, New York.
Growing up, our dining room table was used more for art projects than meals. The route from that type of creative environment at home to a career in the decorative arts has been winding yet obvious. My areas of artistic interest have remained varied and the inherent satisfaction of deploying a variety of skills and materials to produce unique environments endures.
After training as a fine arts painter at the School of the Museum of Fine Arts at Tufts University, I worked at a large decorative painting company in New York. I developed proficiency in a wide spectrum of techniques (layering water borne with oil-based paints for faux bois, tools for marbleizing, formulas for glazing, etc.), methods that can be translated to current media like  venetian plaster or metallic finishes. I spent several years in what was essentially their decorative finish laboratory, developing unique prototypes and samples for interior designers and architects. I took direction both abstract and highly specific, exacting or collaborative, to arrive at the desired finish.
I started working on large-scale architectural restoration and conservation projects as a project manager, still using decorative techniques like glazing, leafing, and stenciling, but on a grand scale and with historic and archival demands factored in. I was involved in the restoration of The New Amsterdam Theater and the conservation of Edward Trumbull's mural in the lobby of the Chrysler Building as well as theaters, cathedrals, and a number of  art deco buildings in San Francisco.
In 2004, I launched Ornamento. We participated in a number of decorator show houses and completed residential projects throughout the Bay Area, devising finishes appropriate for  architectural considerations from classic Victorian to International Style. Since returning from California, I've been working predominantly in private residences in New York, with occasional forays into restaurants and boutiques domestically and abroad.
Recently, I've expanded into making custom designed, mixed media wall canvasses that use patterning, repetition with variation, and stylized elements from nature. Each is unique and designed for a specific location. These projects sparked a conviction of the profundity of pattern, and reiterate the inherent satisfactions in the process itself; layering venetian plaster, artists' oils, graphite, metal leaf, chemistry- whatever the motif might call for- to achieve one of a kind settings.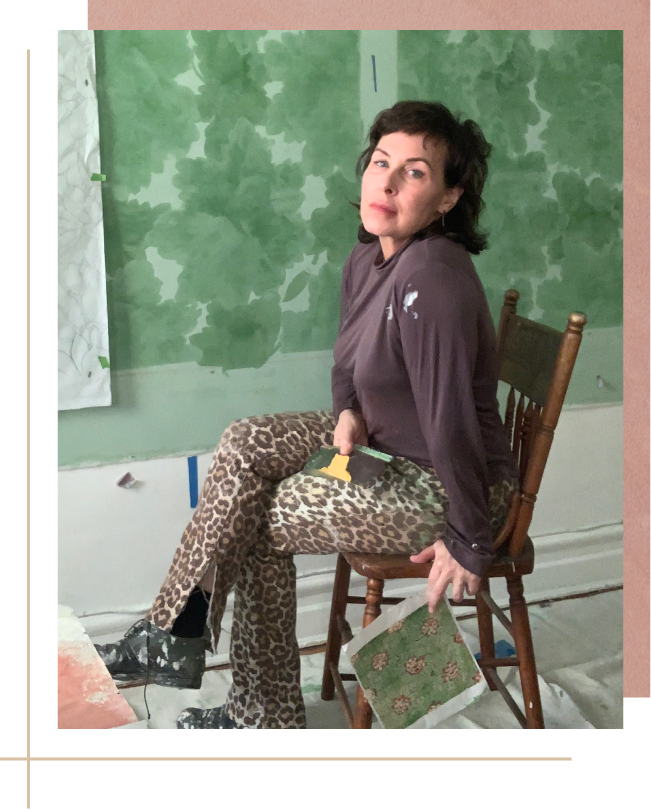 Jane and I go back a long way to when we both worked for a large decorative painting company in New York. I've observed her knack for working with many different designers and architects to arrive at decorative finishes that are uniquely beautiful. I think that because she's a fine artist, she has a refined visual sensibility, and her skill with all kinds of materials gives her a real facility for translating ideas into a custom, solid visual.
— Vicki Khuzami, Khuzami Studios